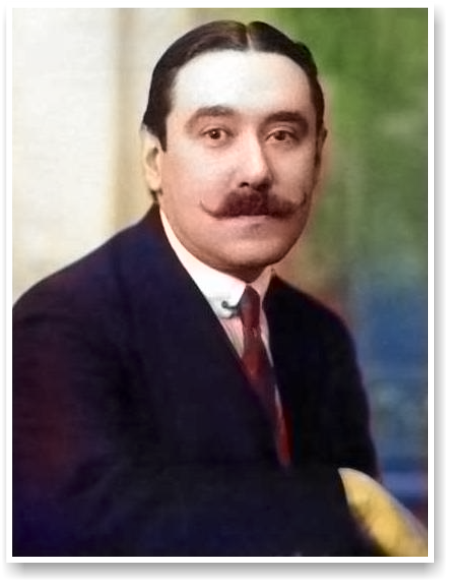 Joaquín Turina Pérez was born in Sevilla on the 9th of December 1882. Born into a comfortable middle class family, he was surrounded by an artistic environment that was a good influence on the future musician. At the age of four he was given as a gift an accordion and surprised everyone with the speed and facility he learned to play.
In 1894 he began his formal studies of harmony theory and counterpoint. Almost immediately he began to compose small pieces. His debut was on March 14 1897 where he performed the Thalberg's Fantasy on a theme from Rossini's Moses that set him on the road to become a full fledged performer. In 1902 he moved to Madrid where he quickly became involved in the musical scene there and saw the premier of his Zarzuela La sulamita. In 1905 he, as most other Spanish composers of the time, went to Paris. He studied piano with Moszkowsky and theory under Vicent d'Indy in the Schola Cantorum. He became good friends with Albeniz and Falla, and it was Albeniz who encouraged to find inspiration in the popular music of Spain and Andalucía. His quintet that was premiered in Paris was given the Op. 1 as the beginning of a new way of looking at music and he rarely looked back on the many works published before this time.
In 1914 he returned to Madrid he life in Madrid was divided between composing, teaching and performing. Turina died in Madrid on the 14th of January 1949.
Orchestra
| year | title | Opus | Formation |
| --- | --- | --- | --- |
| 1900 | Sevilla | 2 | – |
| 1913 | La Procesión del Rocío | 9 | – |
| 1912 | Evangelio, poema | 12 | – |
| 1920 | Danzas fantásticas | 22 | – |
| 1920 | Sinfonía Sevillana | 23 | – |
| 1928 | Ritmos | 42 | – |
| 1931 | El Castillo De Almodóvar | 65 | – |
| 1931 | Rapsodia Sinfínica | 66 | Piano, strings |
Stage works
| year | title | Opus | Formation |
| --- | --- | --- | --- |
| 1900 | La Sulamita | 3 | Biblical |
| 1904 | La Copla | – | Zarzuela |
| 1905 | Fea y con gracia | – | Zarzuela |
| 1914 | Margot | 11 | Lyric Comedy |
| 1916 | Navidad | 16 | – |
| 1917 | La Adúltera Penitente | 18 | – |
| 1922 | Jardín de Oriente | 25 | Zarzuela |
| 1923 | La Anunciación | 27 | – |
| 1930 | Pregón de flores | – | Zarzuela |
Chamber music
| year | title | Opus | Formation |
| --- | --- | --- | --- |
| 1907 | Quinteto | 1 | str, qt, Pf |
| 1911 | La Guitarra | 4 | str, qt, Pf |
| 1912 | Escena Andaluza | 7 | va, pf, str qt |
| 1924 | El poema de una Sanluqueña | 29 | vn, pf |
| 1925 | Oración al Torrero | 34 | strings |
| 1926 | Trio | 35 | vl, vc, pn |
| 1929 | Recuerdos del Antiguo España | 48 | ft, st, qu |
| 1929 | Sonata | 51 | vn pf |
| 1931 | Cuarteto | 67 | vn, va, vc, pf |
| 1932 | Variaciones Clásicas | 72 | vn pf |
| 1933 | Trío | 76 | nnv vc pf |
| – | Sonata | 82 | vn pf |
| – | Serenata | 87 | st qu |
| 1942 | Círculo | 91 | vn vc pf |
| – | Las Musas de Andalucía | 93 | qnt pf |
| 1945 | Tema y variaciones | 100 | hp pf |
| 1908 | Sonata española | – | vn pf |
| 1945 | Homenaje a Navarra | 102 | vn pf |
Songs
Organ
| year | title | Opus | Formation |
| --- | --- | --- | --- |
| 1914 | Prelude | – | – |
| 1915 | Musette | – | – |
Piano
| year | title | Opus | Formation |
| --- | --- | --- | --- |
| 1909 | Sevilla, suite pintoresca | 2 | – |
| 1909 | Sonata romántica | 3 | – |
| 1911 | Rincones Sevillanos | 5 | – |
| 1912 | Danzas Andaluzas | 8 | – |
| 1915 | Recuerdos de mi rincón | 14 | – |
| 1915 | Tragedia Cómica | – | – |
| 1916 | Álbum de Viaje | 15 | – |
| 1917 | Mujeres Españolas | 17 | – |
| 1918 | Cuentos de España | 20 | – |
| 1918 | Niñerías | 21 | – |
| 1922 | Sanlucar de Barrameda | 24 | – |
| 1924 | El cristo de la Calvera | 30 | – |
| 1924 | Jardines de Andalucía | 31 | – |
| 1925 | La venta de los Gatos | 32 | – |
| 1925 | Oración al Torrero | 34 | – |
| 1927 | El barrio de Santa Cruz | 33 | – |
| 1927 | La Leyenda de la Giralda | 40 | – |
| 1927 | Danzas sobre temas populares | 41 | – |
| 1927 | Verbena Madrileña | 42 | – |
| 1927 | Ritmos | 43 | – |
| 1928 | Mallorca | 44 | – |
| 1929 | Evocaciones | 46 | – |
| 1929 | Cuentos de España | 47 | – |
| 1929 | Recuerdos de la Antigua España | 48 | – |
| 1929 | Viaje Marítimo | 49 | – |
| 1929 | Tocata y Fuga | 50 | – |
| 1929 | Miniaturas | 52 | – |
| 1930 | Cinco danzas Gitanas | 55 | – |
| 1930 | Niñerías 2 | 56 | – |
| 1930 | Partita | 57 | – |
| 1930 | Tarjetas Postales | 58 | – |
| 1930 | Sonata fantasía | 59 | – |
| 1931 | Radio Madrid | 62 | – |
| 1931 | Jardín de niños | 63 | – |
| 1931 | Pieza romántica | 64 | – |
| 1931 | El castillo de Almodóvar | 65 | – |
| 1931 | El Círculo | 68 | – |
| 1932 | Siluetas | 70 | – |
| 1932 | En la Zapatería | 71 | – |
| 1932 | Mujeres Españolas | 73 | – |
| 1932 | Fantasía italiana | 75 | – |
| 1932 | El Poema Infinito | 77 | – |
| 1933 | Rincones de Sanlucar | 78 | – |
| 1933 | Bailete | 79 | – |
| 1933 | Preludios | 80 | – |
| 1934 | Fantasía sobre cinco notas | 83 | – |
| 1934 | Danzas gitanas | 84 | – |
| 1934 | Ofrenda | 85 | – |
| 1934 | Hipócrates | 86 | – |
| 1935 | Concierto sin orquestra | 88 | – |
| 1935 | Mujeres de Sevilla | 89 | – |
| 1935 | En el Cortijo | 92 | – |
| 1940 | En el Cortijo | 93 | – |
| 1943 | Fantasía del reloj | 94 | – |
| 1943 | Por las calles de Sevilla | 95 | – |
| 1943 | Rincón mágico | 97 | – |
| 1944 | Poema fantástico | 98 | – |
| 1944 | Contemplación | 99 | – |
| 1945 | Linterna mágica | 101 | – |
| 1945 | Fantasía cinematográfica | 103 | – |
| 1945 | Desde mi Terraza | 104 | – |
| unpublished | Sinfonía del Mar | – | – |
Guitar
| year | title | Opus | Formation |
| --- | --- | --- | --- |
| 1923 | Sevillana | 29 | – |
| 1926 | Fandanguillo | 36 | – |
| 1930 | Ráfaga | 53 | – |
| 1931 | Sonata | 61 | – |
| 1932 | Homenaje a Tárrega | 69 | – |